NOVEX 2000 verification

(security chip sticker info)
In order for us to provide you with a link to download an original NOVEX2000 software, we need to verify the type of N2K pci card you have and its release version. This information is encoded in the SECURITY CHIP serial number, which can be found on a white sticker on top of the security chip. Kindly see the image below and advise what the Security Chip Serial Number is. It is a sequence of a few letters followed by a number. The security chip may not be located exactly as shown on the picture below, but it is the only removable chip on the N2K pci card and is easily identified by the white sticker on top of it.


If there is no sticker on the only removable chip, and you are positive that the product is an original NOVEX2000, then send us the invoice number and data (vendor name and address, version, description, date and place purchased) and/or send us a snapshot (.jpg or .gif) of the pci card (front and back), so we can verify its authenticity and what software version can run on it.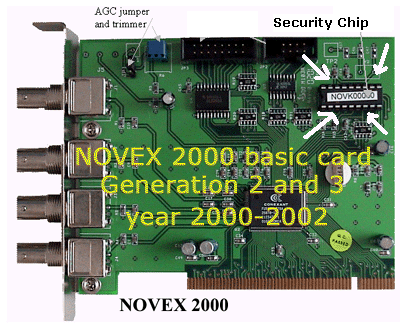 Note: The picture above shows the NOVEX2000 PRO pci card.




Please direct your inquiries by email to: sales88 @ novexcanada.com